Donate
Your donation to Feet on the Earth Programs ensures that all families who wish to participate in our programs are able and that we create a sustainable world for future generations.
We are a 501c3 charitable organization, and donors may deduct contributions as provided in IRC section 170 of the U.S. tax code.
Our federal tax identification number is 27-4748274.
COLORADO CHILD CARE CONTRIBUTION CREDIT: MORE THAN HALF OF YOUR DONATION COMES BACK TO YOU!

Feet On The Earth Programs is a licensed child care facility in the State of Colorado, which means that your donation of $250 or greater, up to $200,000, to a qualified program qualifies for a 50% childcare contribution credit on your taxes.
This information should not be construed as tax advice, and as always, you should consult your tax advisors for the most accurate information.
Your donation still qualifies as a charitable deduction on your Federal income tax
Donation must be made as a single gift, paid in full via check, cash, credit card, direct bill or electronic funds transfer
You can take advantage of the tax credits regardless of whether you itemize or not
Both individuals and corporate donors can benefit from this tax credit program
In-Kind donations are not eligible for this credit
The table below illustrates how a large part of your donation comes back to you in various tax credits and deductions.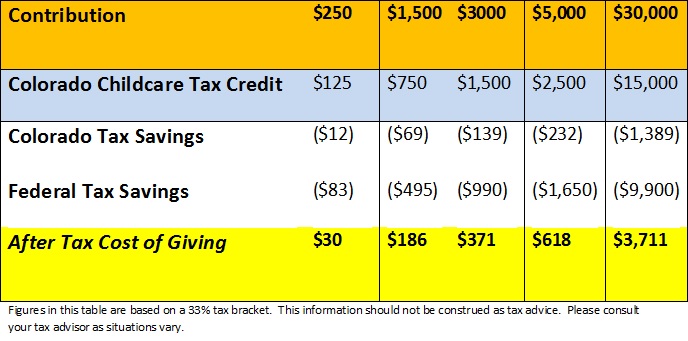 Donations can be mailed to:
Feet on the Earth Programs
PO Box 18302
Boulder, CO 80308